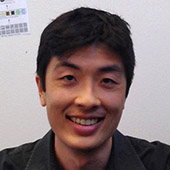 I am a Visiting Scholar in the Psychology Department at Washington University in St. Louis. My primary research interest is in developing computational models of how visual stimuli are represented in human visual cortex. Besides vision, I am also interested in fMRI methods, statistics and machine learning, and high-performance computing. If you are interested in collaborating (or just chatting), feel free to drop me an e-mail.
Math, Statistics, and Computation Interest Group: This discussion group is intended for people interested in learning about computational methods relevant to psychology or neuroscience. We meet Thursdays 9-10am in Room 402D in the Psychology Building (Danforth Campus). E-mail me if interested.
Links to some stuff of mine:
CV
Models of BOLD responses in visual cortex (data and code)
crcns.org fMRI natural image data set
Blog on statistical analyses in MATLAB
GLMdenoise
Repository of MATLAB helper functions, including
some useful code for fitting nonlinear models
Psych 216A: Statistics and data analysis in MATLAB
Publications in progress
GLMdenoise: A fast, automated technique for denoising task-based fMRI data. (under review).
Kay, K.N., Rokem, A., Winawer, J., & Wandell, B.A.
Publications
Quantifying the local tissue volume and composition in individual brains with magnetic resonance imaging. Nature Medicine (2013).
Mezer, A., Yeatman, J.D., Stikov, N., Kay, K.N., Cho, N.-J., Dougherty, R.F., Perry, M.L., Parvizi, J., Hua, L.H., Butts-Pauly, K., Wandell, B.A.
Pubmed link | Journal link | PDF

Haptic fMRI: Combining Functional Neuroimaging with Haptics for Studying the Brain's Motor Control Representation. IEEE EMBS (2013).
Menon, S., Brantner, G., Aholt, C., Kay, K., Khatib, O.
Pubmed link | Journal link | PDF

Asynchronous Broadband Signals Are the Principal Source of the BOLD Response in Human Visual Cortex. Current Biology (2013).
Winawer, J., Kay, K.N., Foster, B.L., Rauschecker, A.M., Parvizi, J., & Wandell, B.A.
Pubmed link | Journal link | PDF (Main text) | PDF (Supplemental Information)
A Two-Stage Cascade Model of BOLD Responses in Human Visual Cortex. PLoS Computational Biology (2013).
Kay, K.N., Winawer, J., Rokem, A., Mezer, A., & Wandell, B.A.
Pubmed link | Journal link | PDF
Compressive spatial summation in human visual cortex. Journal of Neurophysiology (2013).
Kay, K.N., Winawer, J., Mezer, A., & Wandell, B.A.
Pubmed link | Journal link | PDF (Main text) | PDF (Supporting Information)
Understanding visual representation by developing receptive-field models. In: Visual Population Codes: Towards a Common Multivariate Framework for Cell Recording and Functional Imaging, edited by N. Kriegeskorte & G. Kreiman (2011).
Kay, K.N.
Book link
Encoding and decoding V1 fMRI responses to natural images with sparse nonparametric models. Annals of Applied Statistics (2011).
Vu, V.Q., Ravikumar, P., Naselaris, T., Kay, K.N., Gallant, J.L. & Yu, B.
Pubmed link | Journal link | PDF

Encoding and decoding in fMRI. NeuroImage (2011).
Naselaris, T., Kay, K.N., Nishimoto, S. & Gallant, J.L.
Pubmed link | Journal link | PDF
Bayesian reconstruction of natural images from human brain activity. Neuron (2009).
Naselaris, T., Prenger, R.J., Kay, K.N., Oliver, M. & Gallant, J.L.
Pubmed link | Journal link | PDF (Main text) | PDF (Supplementary Information)
I can see what you see. Nature Neuroscience (2009).
Kay, K.N. & Gallant, J.L.
Pubmed link | Journal link | PDF
This is commentary on:
Visual image reconstruction from human brain activity using a combination of multiscale local image decoders. Neuron (2008).
Miyawaki, Y., Uchida, H., Yamashita, O., Sato, M.A., Morito, Y., Tanabe, H.C., Sadato, N. & Kamitani, Y.
Pubmed link | Journal link | PDF

Nonparametric sparse hierarchical models describe V1 fMRI responses to natural images. In: Advances in Neural Information Processing Systems 21, edited by D. Koller, D. Schuurmans, Y. Bengio, & L. Bottou (2009).
Ravikumar, P., Vu, V.Q., Yu, B., Naselaris, T., Kay, K.N. & Gallant, J.L.
Book link | PDF
Identifying natural images from human brain activity. Nature (2008).
Kay, K.N., Naselaris, T., Prenger, R.J. & Gallant, J.L.
Pubmed link | Journal link | PDF (Main text) | PDF (Supplementary Information)
See commentary:
What's in your mind. Nature Neuroscience (2008).
Wandell, B.A.
Pubmed link | Journal link | PDF

Modeling low-frequency fluctuation and hemodynamic response timecourse in event-related fMRI. Human Brain Mapping (2008).
Kay, K.N., David, S.V., Prenger, R.J., Hansen, K.A. & Gallant, J.L.
Pubmed link | Journal link | PDF
Topographic organization in and near human visual area V4. The Journal of Neuroscience (2007).
Hansen, K.A., Kay, K.N. & Gallant, J.L.
Pubmed link | Journal link | PDF
Invited Talks
2013-05, MRC Cognition and Brain Sciences Unit
GLMdenoise: a fast, automated technique for denoising task-based fMRI data
2013-04, MRC Cognition and Brain Sciences Unit
A two-stage cascade model of BOLD responses in human visual cortex
2008-11, Dartmouth, Psychology and Brain Sciences
Using computational models of voxels to identify images seen by an observer
2008-11, Guest Lecture for Math 126 at Dartmouth
Building computational models of V1 voxels & Mathematical details of estimating receptive-field models
2008-03, Cosyne (Computational and Systems Neuroscience) Workshops
Using voxel receptive field models to identify natural images seen by an observer
2007-12, UC-Berkeley Brain Imaging Center Research Day
Building a general decoder for human visual cortex
Talks/Poster Presentations
2012-02, Cosyne (Computational and Systems Neuroscience)
Compressive spatial summation: a characteristic of extrastriate computation
2011-11, SFN (Society for Neuroscience)
Compressive spatial summation improves models of extrastriate responses
2011-05, VSS (Vision Sciences Society)
Spatial saturation in human visual cortex
2007-11, SFN (Society for Neuroscience)
Decoding human visual cortical activity evoked by novel natural images
2007-09, UC-Berkeley Neuroscience Research Conference and Retreat
Estimation of voxel receptive fields in human visual cortex using natural images
2007-08, BAVRD (Bay Area Vision Research Day)
Building a general decoder for human visual cortex
2007-05, VSS (Vision Sciences Society)
Estimation of voxel receptive fields in human visual cortex using natural images
2006-11, UC-Berkeley Neuroscience Research Conference and Retreat
Investigating shape representation in human visual cortex using fMRI
2005-11, SFN (Society for Neuroscience)
Artifacts in phase-encoded fMRI retinotopic mapping
2004-12, UC-Berkeley Brain Imaging Center Research Day
Artifacts in standard fMRI retinotopic mapping
Education and Professional History
2003–2009, University of California, Berkeley, Ph.D. in Psychology
1998–2002, Harvard University, A.B. in Philosophy, magna cum laude
Awards
2003, National Defense Science and Engineering Graduate Fellowship